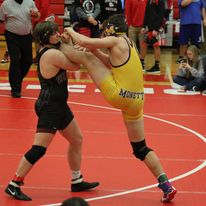 The Training
Freakstyle Wrestling currently offers Freestyle and Greco training sessions to compliment regular season training.
We will participate in local and national tournaments from April - July. You can choose to attend workouts and/or tournaments based on your personal schedule and needs.
Schedule and Pricing
SCHEDULE
Starting March 8, 2023
WED & FRI, 6:30-8:30
SATURDAYS, 10-NOON When there are no tournaments on our schedule.
Will also open on some SUNDAY afternoons as needed and requested.
 WHO CAN PARTICIPATE
Wrestlers who are age 12 and up (born 2011 year and earlier) and hold a USA Wrestling Card.  To
compete in the 12U (Schoolgirl/boy) division of USA Wrestling Freestyleand Greco events, a wrestler must be born in 2011-2012.  Age limits and weight brackets can be seen here: https://www.usawmembership.com/age_group_weight_chart
 PRICING
$45 USA Wrestling Membership Card (this allows you to participate in any USA event)
$50 for the Season PLUS participate in a fundraising event.
SINGLETS
Find one RED singlet and one BLUE singlet to participate in tourneys – we don't require a team singlet at this time.
CLINICS
Stay tuned for clinics and camp schedules.
ONE-ON-ONE TRAINING
Private lesson options are available for all three styles of wrestling. Message for details.
PAYMENTS